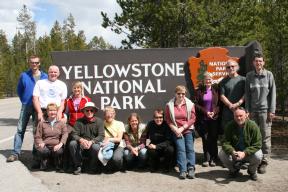 From May 8, to May 30, 2010, I was travelling in United States on the "Best of the West" tour offered by Trek America. Although the group was older than expected (with an average age of about 50), the mix worked really well – in fact, even better than I could have wished for. So, the age did not really matter after all.
What turned out to be (much) worse than expected, though, was the weather. We experienced pretty much everything you can imagine: from hail to rain to snow, from sunshine to strong winds (including a snow storm, and a sand storm). Despite these adverse conditions, however, it was a really great holiday.
May 8, 2010 – San Francisco

May 9 – 16, 2010 – From Yosemite to Yellowstone

I intended this trip to be my summer holiday, and I expected to enjoy (at least) spring-like temperatures in Yosemite. However, it was still winter there: Sub-zero temperatures at night, and a (snow) storm passing through.

It took us two and a half days to get from Yosemite to Yellowstone (a distance of about 1000 miles). In between, we stopped in Nat Soo Pah for the night. There, we were able to enjoy a hot soak in a thermal pool – what a delight!

Winter has not yet left Yellowstone National Park either – at least during the night with lows down to 19° F (-7° C). During the day, however, it was nice and sunny, and we could thoroughly enjoy the world's oldest national park.

I have not heard of the Grand Tetons before this trip. Still, this national park is definitely worth a visit.

May 17, 2010 – Salt Lake City

The time in Salt Lake City was rather relaxing for me – mostly thanks to a hotel bed.

May 27 – 30, 2010 – New York

At the very end of my trip, a short visit of New York just seemed the right thing to do – especially since I could visit some friends of mine.