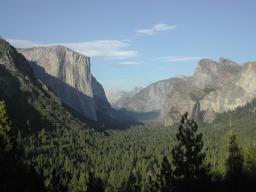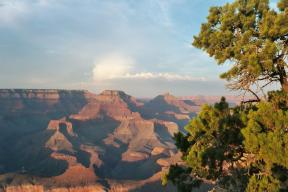 Between August 5 and Dezember 26, 2003, I have been to the United States as an exchange student. After my first visit to the college on August 6, I left New York for a 18-days-long trip through California (together with my father). We rented a car, and visited (among others) San Francisco, the Yosemite National Park (see left), the Death Valley, and even the Grand Canyon in Arizona (see right). More details can be found in my California diary (in German); a lot of pictures may be found in my California photo album.
After that (between August 24 and August 31), my father and I spent one week sightseeing in New York. Apart of Central Park (which we could not visit as it was raining during the last two days of my father's stay), we have seen all major attractions and sights: Downtown Manhattan, the Empire State Buidling, the UN Headquarter, and several museums (the American Museum of Natural History, for example). Again, more details about our itinary may be found in the New York diary (in German), or you may want to have a look at my New York photo album.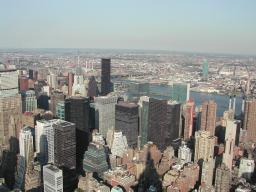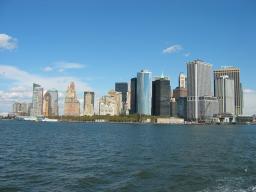 As of September 2, I was studying eagerly (well, more or less). Nonetheless, I still had time for other activities in and around New York. For example, I liked to stroll in Downtown Manhattan – the sky scrapers in the Financial District are somehow fascinating. Most frequently (especially during the second half of my stay), however, I spent my spare time in Central Park, as it is especially beautifall in Fall (thanks to the colored leaves), as well as in Winter (covered with snow). I also visited several museums (i.e. seven visits to the American Museum of Natural History).
What is more, I also explored two of the "nearby" cities: Washington D.C. and Boston.
Again, my "Diary of a Study Abroad" is only available in German, but there is a photo album available, too.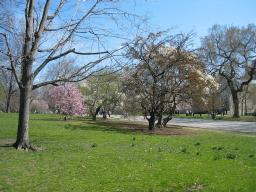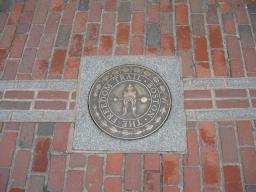 As I enjoyed my stay in New York so much, and I fell in love with this city during my four months stay – despite its size, the crowd and the lower quality of life (compared to Austria) – I returned for a two week holiday in 2004 during the Easter holidays: From March 31 until April 15, I spent my time both in New York and in Boston. During my five-day stay in Boston (from April 5 to April 9), I took the oportunity not only to visit the city of Boston itself, but also to see some nearby towns (Salem and Plymouth, among others). All in all, my stay in Boston was (apart from several Broadway shows, and strolling in a springlike Central Park) the highlight of this stay.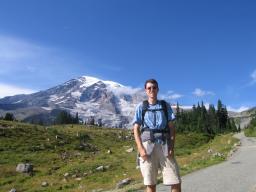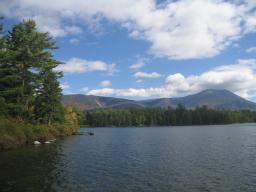 Also during the two following years, I spent at least some days per year in the United States:
In the year 2005, I spent five days in Washington State after my holiday in Western Canada. During this stay, I visited (among others) the Olympic National Park and Mt. Rainier. More details may be found in my Washington diary (in German). Again, there is also a photo album available.
In the year 2006, I dedicated my holidays to the East coast again: I explored the wilderness of Maine, and (of course) also went to New York City again. During the latter part of my stay, I also did a daytrip to Philadelphia. More information is available in my "Atlantic Maritimes" diary (in German), or the corresponding photo album.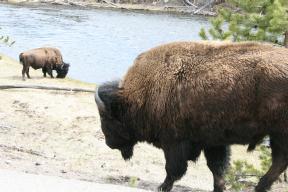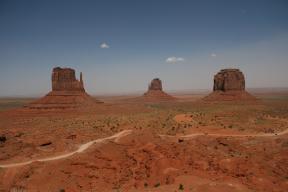 After that, I did not return to the United States until 2009. In that year, however, I visited the country twice: In January and in April/May during my RTW trip.
A year later, in May 2010, I returned to the United States. This time, I focused on those part of the West that were still "missing", e.g. Yellowstone, Utah and Arizona. Finally, however, I just had to spend a few days in New York City. More details about this stay are available in my "Best of the West" diary.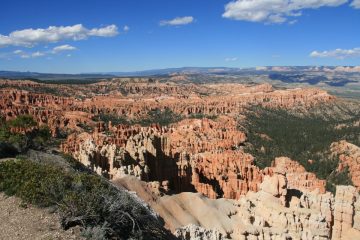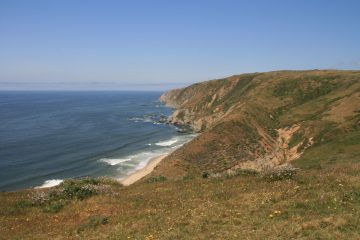 Finally, in May 2017, I literally travelled across United States (by train). Some pictures of this trip can be found in my Blog.
A general overview about my stays in the United States (and Canada) is shown on my North America Travel Statistics page.