Almost exactly ten years after my previous visit, I spent another weekend in London. Unfortunately, the weather was not that nice: It was mainly wet and cold.
Still, we want on a stroll through the city on Saturday. In between, we stopped at cafés and restaurants to warm up again. First, it seemed that not much had changed over the last ten years: tourists were still lining up in front of Westminster Abbey, and horse guards were still standing around on Whitehall Street.
In the West of the City (and to the South of it, in Southwark), however, a lot of new skyscrapers have been (and still are) erected – quite a contrast to the Tower of London nearby. Because of the weather, we did not visit any observatory, though. Instead, we took in the skyline of modern London from below.
On the second day, the weather was slighty better. However, this day was almost completely dedicated to the main reason of our stay: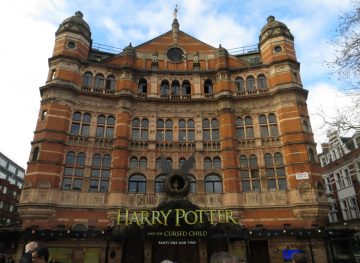 As the motto of the show is #KeepTheSecrets, I will not go into details here. I will just say that it was absolutely brilliant – highly recommended!