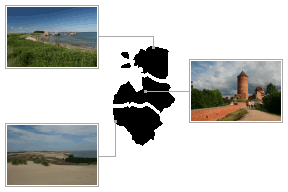 On my recent trip through the Baltics, I had the impression that there are two types of backpackers: the "regular" backpackers – and me. Whereas the former typically concentrate on the three capitals, I have spent most of my time exploring the nature, which is (in my opinion) the true gem of this region.
In order to provide some food for thought for future travelers, I would like to present my Top 5 of the Baltics. Of course, this is a very subjective rating. Still, it shows that there is much more to the Baltics than just Vilnius, Riga, and Tallinn.
My Top 5 of the Baltics
As an additional insider tip (an "Honorable Mention", so to speak), I would like to recommend Dzūkija National Park. Whether you explore it by canoe, or (like me) "only" by hiking along the Grūda River, this national park is definitely worth a visit – even though (or rather: because) it hardly sees any Western tourists.
Travel Tips
The Baltics are quite easy to visit for backpackers. There are lots of bus (and sometimes, especially in Lithuania, also train) connections. Therefore, you do not necessarily need a car to explore this region. The only places where a car would have been helpful where the Daugava Bends, and Saaremaa, respectively. In this regard, I would like to mention the Onauto car rental in Kuressaare (which I discovered only at the end of my stay). Allegedly, it offers a rental car from 20,– Euros per day. However, I cannot comment on the state of repair of the vehicles or the insurance conditions.
For planning my bus and train trips, the following websites proved to be helpful:
The level of prices generally increases the further north you go. Lithuania is considerably cheaper than Austria, whereas Tallinn seems to be more or less on the same level as Vienna as far as the prices are concerned. However, I have to admit that my shopping habits (concerning food) might be considered slightly weird. Therefore, my view of the level of prices might be distorted, too.
Interestingly enough, the knowlegde of English increases along with the prices: In Lithuania, for example, the ticket vendors at the main train station in Vilnius did not speak English. In Estonia, however, even the bus driver of a local bus did speak (a bit of) English.
A good (or even better) alternative to English is, of course, Russian (due to the history of this region, and due to the – sometimes quite large – Russian communities here). Still, it is easily possible to travel these countries without any knowledge of Russian and/or the local languages.